1
« on: May 25, 2017, 05:57:35 PM »
Exactly was it says on the tin! I've been meaning to make this thread so I can just put all my stuff in one place.
First we have my progress on my first reroot. I started her around winter break but then second semester started kicking my butt so she fell to the wayside. Now that it's summer I'm hoping to get back on the horse.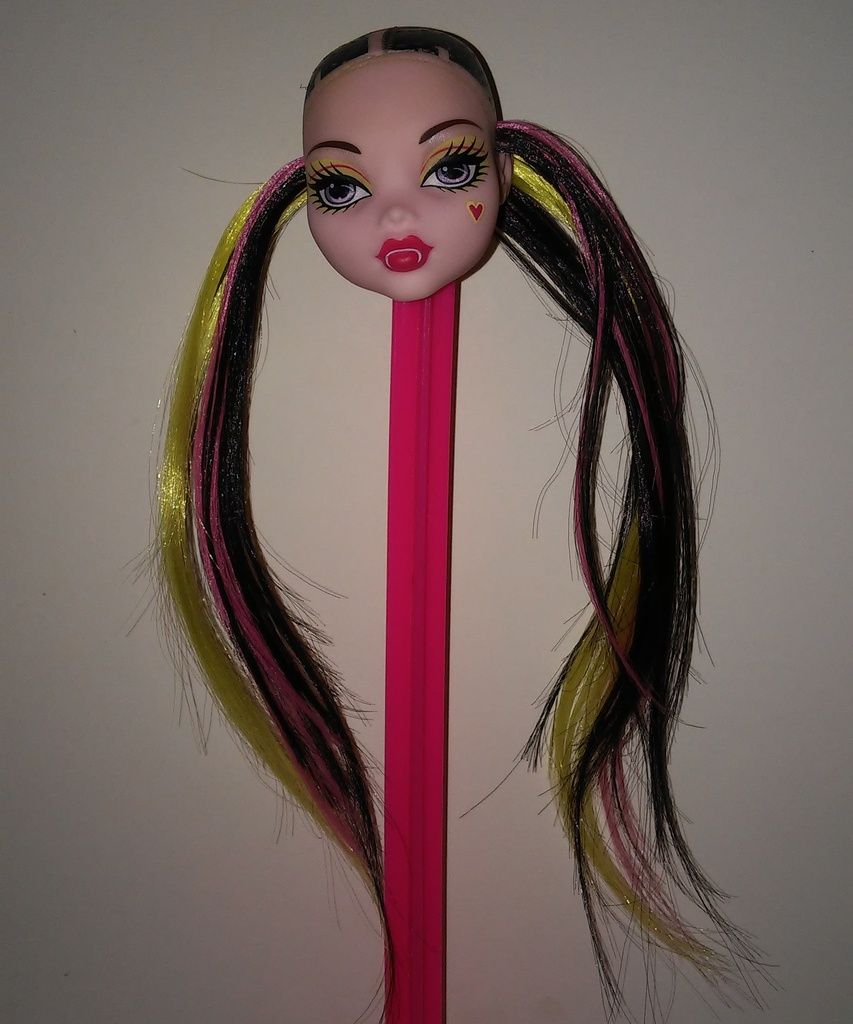 I modified my Justine quite a while ago. Probably Spring Break? I didn't like how her corset ruined the silhouette of her skirt so I cut off the sections that wrapped around her hips. I also gave her Bunny's earrings (they kinda look like trees if you squint), another bracelet, and a pair of tights.
Farrah got an upgrade too. The later signatures really don't measure up to the first wave and I like Farrah so I wanted her to be on that level (kinda). I gave her Kiyomi's belt and bracelet because I thought the pink would look nice. The other bracelet is from IHF Whisp I think. I know the chains are really out of place but the cherry blossoms actually kind of look like stars to me so she's keeping it.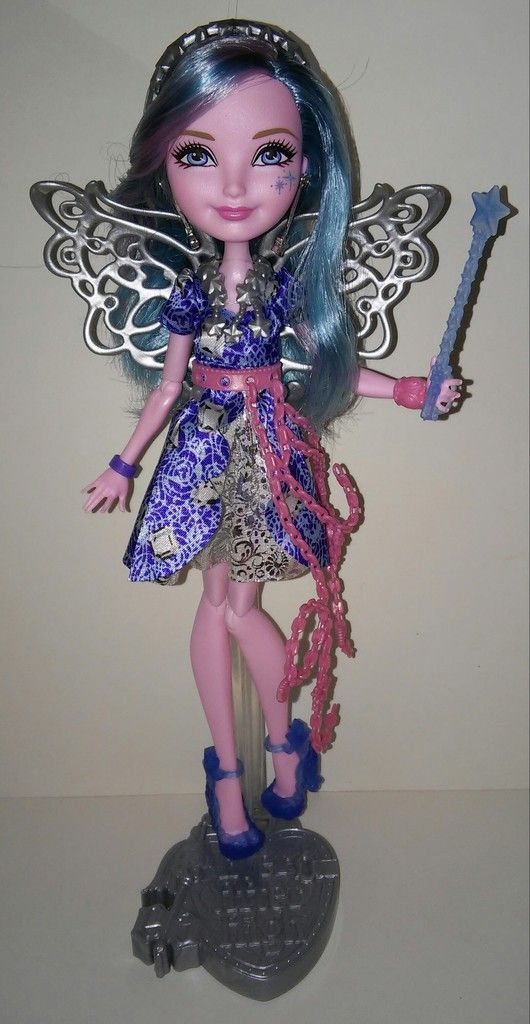 I'm really proud of her earrings. I bought these wand charms to go on her headband (somehow) but they work better here.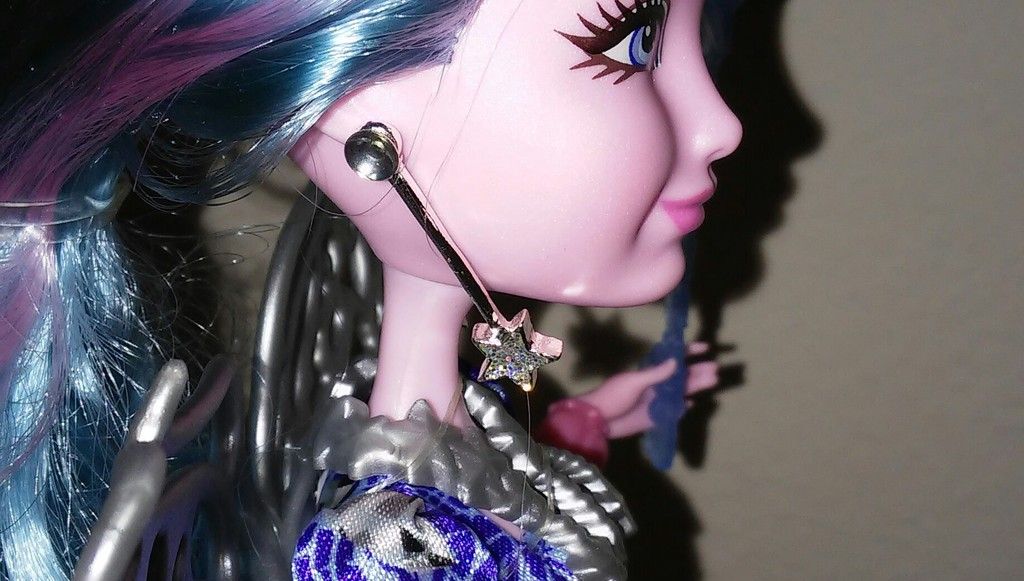 ---
That's all the old stuff. More recently (as in like, within the past couple of days) I've been painting more accessories for my ghouls. A lot of them turned out sloppier than I wanted, so eventually I'll have to back and fix them some more but these have been on my radar for months so it feels good to get them off my mind.
First Day of School Draculaura's shoes finally got some black paint on their soles/heels. They actually got another coat after I took this pic and I cleaned up the edges but I haven't taken a 2nd pic yet.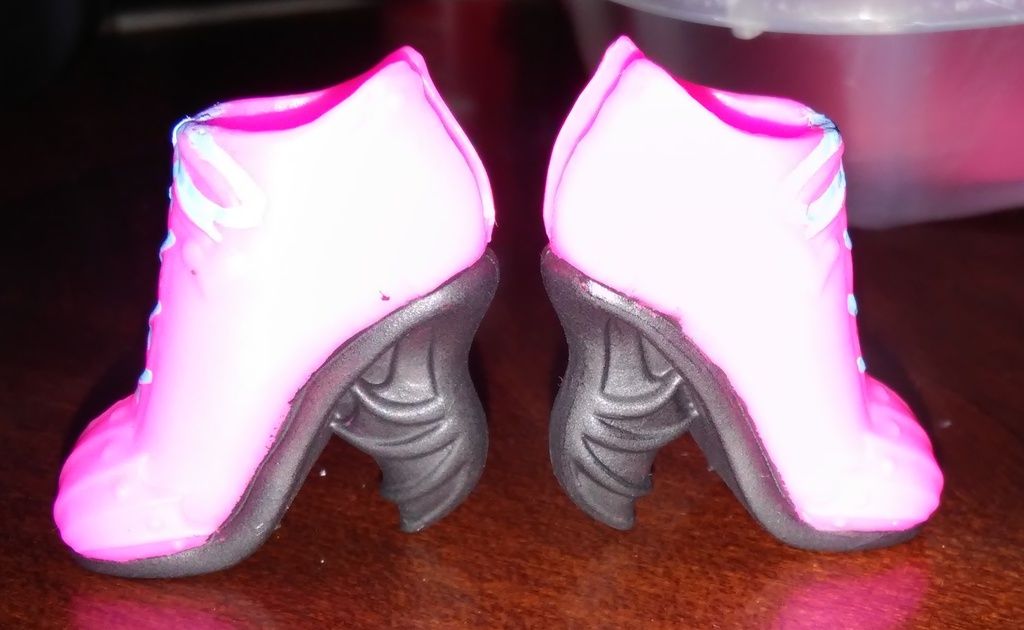 Cleo's shoes got detailed as well.
So did Lagoona's. I cleaned up hers as well after this.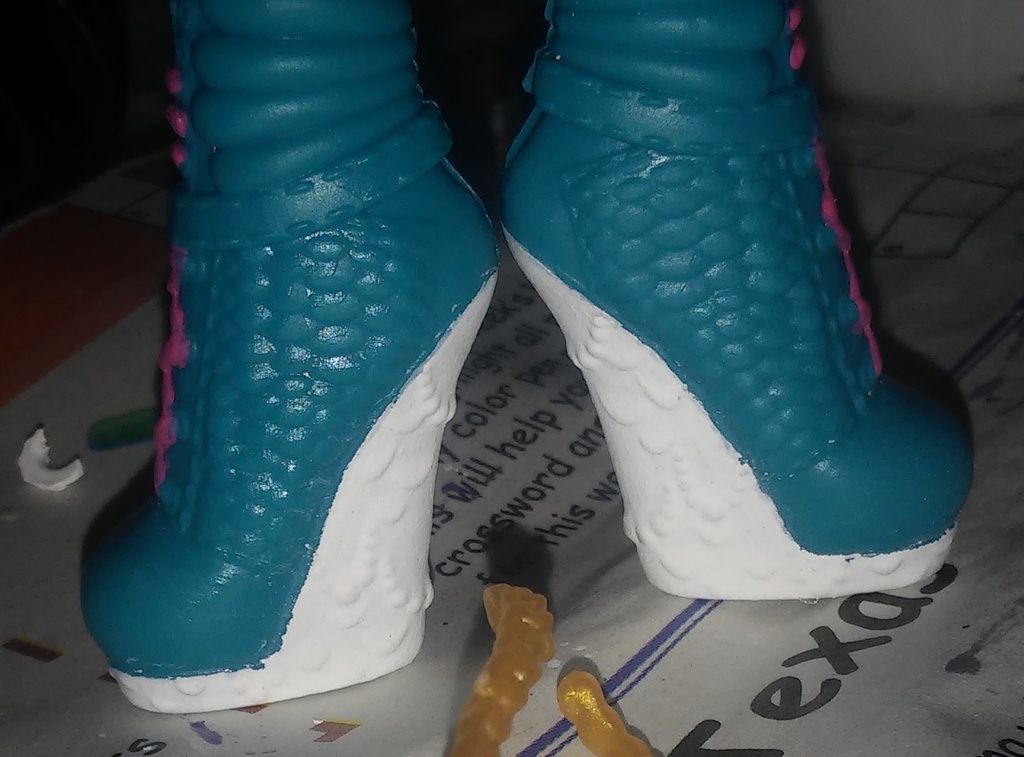 I'm not super happy with how Frankie's turned out though. I used my small detail brush to do the stitches on the side but they didn't come out as clean as I wanted. Maybe I needed an even smaller brush? They look cute from a distance though.
Sorry but you are not allowed to view spoiler contents.
My favorite one out of these last few days of painting have been these shoes for Raven. I thought it was kind of sad that the Spellbinding Raven didn't get her own shoe mould when the REA Apple did so I bought a pair of the Fearfully Feisty Inner Monster Shoes and painted them up for her! They turned out both better and worse than I'd hoped. I wish the black had been able to come out more.
Sorry but you are not allowed to view spoiler contents.
I also seriously pumped up my CGI accurate customs of the First Day at School Ghouls. Draculaura still needs a pair of leggings and Clawdeen needs a belt but I'm almost there! The only one left is Cleo, who I'm replacing with her Ghoul's Beast Pet release bc I like her hair better
Fullbody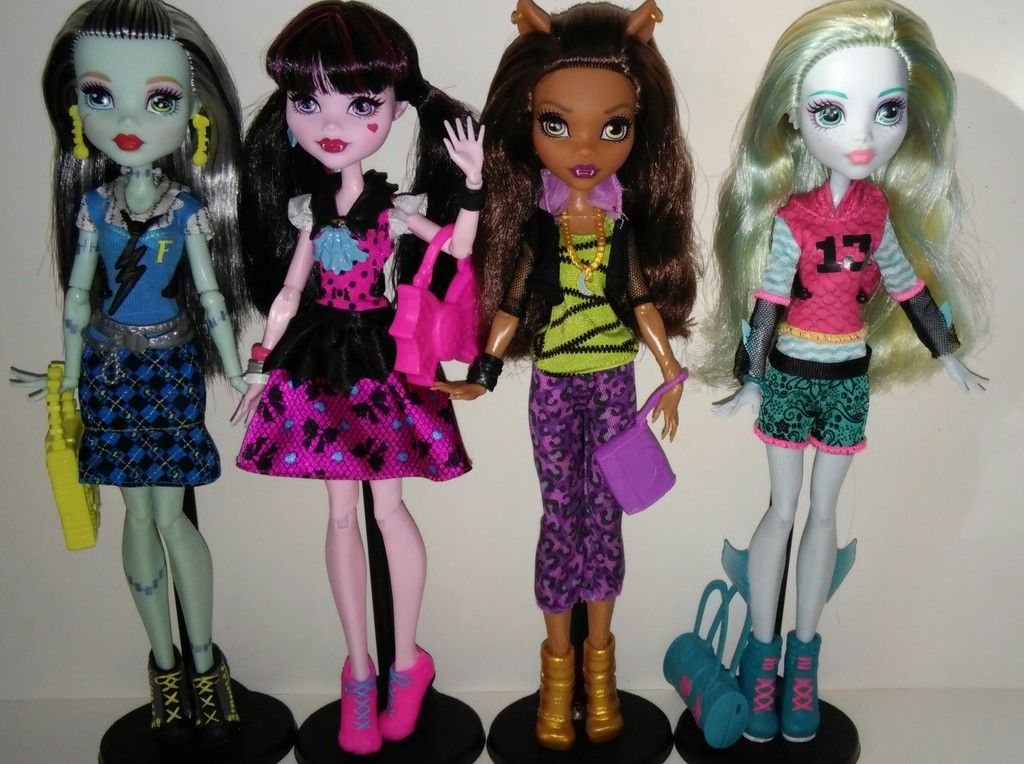 Shoes (see what I meant about Frankie's looking fine from a distance?)